Workers at a Starbucks in Augusta, Georgia, voted overwhelmingly to unionize, a sign that efforts to organize employees of the coffee giant are continuing to make inroads in the South.
Organizers announced on Twitter Thursday that workers at the Augusta location voted 26-5 to unionize. The vote makes it the first Starbucks in Georgia to join the recent unionization effort spearheaded by Starbucks Workers United, the union representing the employees.
The wave of unionization activity follows three Starbucks in Buffalo, New York, voting to form the first-ever union since the company was founded in Seattle, Washington, in 1971.
According to a tracker of the effort by More Perfect Union, a pro-union nonprofit, over 200 locations have either held unionization votes or workers have filed papers seeking elections.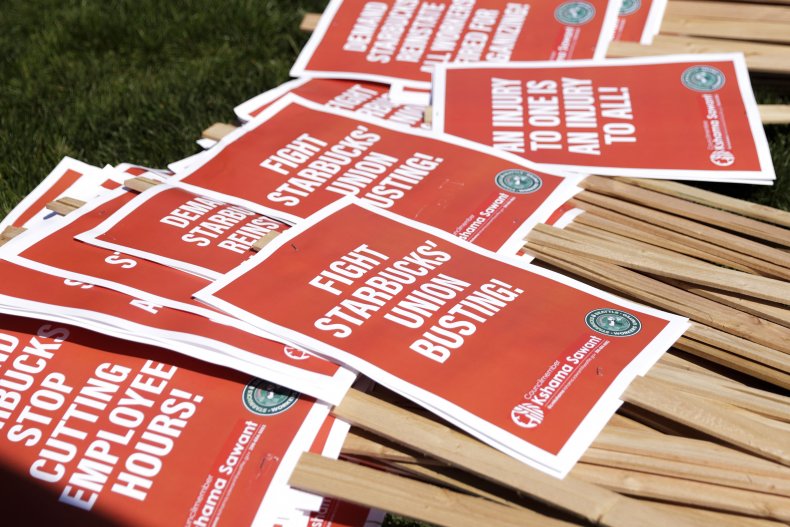 "Right now, there are 39 stores that have officially won their unions and over 230 stores that have filed petitions," Starbucks Workers United told Newsweek in an email.
Employees at the store were unavailable for comment Thursday evening.
Many of the other unionized stores are in the Northeast, including two recently in Rochester, New York. Outside of Virginia, which has six, the only other unionized Starbucks in the historically union-averse South are in Knoxville, Tennessee, and the latest one in Augusta.
Elsewhere, organizers have complained of being targeted by the company.
"The key goals we are going for is better pay, better benefits, better training, better working conditions all around," said Jaysin Saxton, lead organizer for the Augusta Starbucks, told The Augusta Chronicle. "We all love working for Starbucks, but we just want it to be better."
The ballots were counted by a representative of the National Labor Relations Board after the election closed on Thursday, following the two days allotted for workers to cast their votes, the paper reports. The count was watched by representatives of the union and Starbucks.
Saxton told the paper he has worked at the Augusta location for three years and even met his wife at the coffeehouse. When they had a child, though, he felt the six to eight weeks of parental leave was too short. He also found the training inadequate and the wages too low. In January, he reached out to Starbucks Workers United to begin organizing.
"I want to make this a better place for my child and for the people I work with, because they're my family as well," Saxton told the paper.
Newsweek has reached out to Starbucks for comment.

Source : https://www.newsweek.com/first-starbucks-georgia-votes-unionize-becoming-39th-us-1702017