First Republic Bank's stocks dropped nearly 50 percent in value on Tuesday following weeks of turmoil for the financial institution.
The value of a share in First Republic's stock sat at $12.23 when the stock market opened Tuesday morning. But by closing time, its value had dropped to $8.10, equaling a 49.37 percent decrease. The decline comes after the bank released an earnings report that showed its total deposits fell nearly 41 percent to $104.5 billion and a conference call in which the bank declined to answer questions from investors.
The financial industry is facing continuing uncertainty stemming from the collapse in March of the Silicon Valley Bank (SVB), which sent shockwaves throughout the financial industry, leaving smaller banks in peril.
The meltdown prompted investors to scrutinize banks including First Republic, whose stock plummeted in mid-March. In the week-long period beginning March 8, the bank's stock moved from roughly $115 to $31, a drop of more than 70 percent—a historic low. Furthermore, First Republic's credit rating was downgraded in March due to "extremely volatile conditions" by Moody's Investment Service.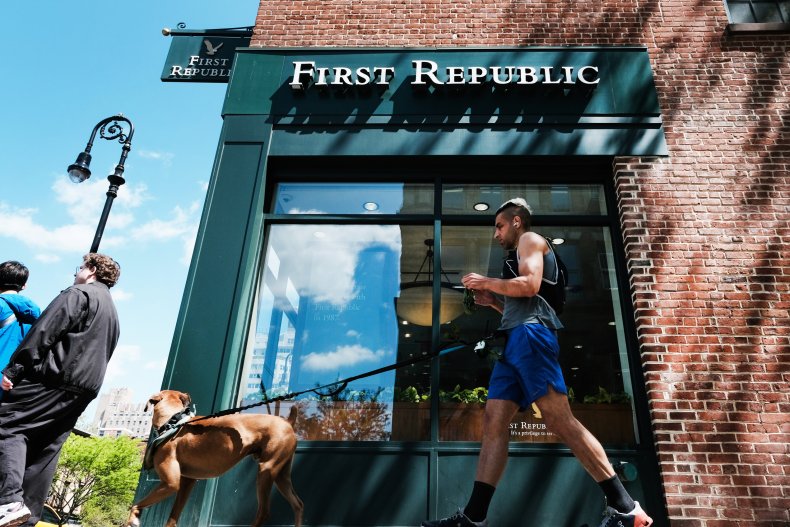 The troubling earnings report also came after several of First Republic's competitors—including Bank of America, Citigroup, JPMorgan Chase and Wells Fargo—attempted to ensure the bank would avoid collapse by depositing $30 billion into it.
Without that lifeline, First Republic's deposits would have dropped more than 50 percent in the first quarter.
When reached for comment Tuesday afternoon, a spokesperson for First Republic declined to comment on the stock price decline.
Like SVB, First Republic has used a large portion of its deposits on long-term investments that have lost value due to the Fed's interest rate hikes. These losses contributed to the bank run that led to SVB's collapse last month.
Roffler, during the call with investors on Monday, acknowledged that the bank experienced "unprecedented deposit outflows," but noted that losses had slowed in April, according to a report from CNN.
In the earnings report, First Republic wrote that it is "taking actions to strengthen its business and restructure its balance sheet."
"These actions include efforts to increase insured deposits, reduce borrowings from the Federal Reserve Bank, and decrease loan balances to correspond with the reduced reliance on uninsured deposits," the report reads. "Through these actions, the Bank intends to reduce the size of its balance sheet, reduce its reliance on short-term borrowings, and address the challenges it continues to face."
The bank also said in its expense report that it plans to reduce its workforce by 20 to 25 percent in the next corner as well as implement "significant" but unspecified reductions to executive compensation.
Also on Tuesday, a Florida police pension fund filed a lawsuit against First Republic Bank, alleging that the fund lost more than $600,000 in stocks amid the bank's financial turmoil.