Democratic Pennsylvania Senate candidate John Fetterman is lashing out at his Republican opponent Mehmet Oz amid criticism of his refusal to take part in a debate.
Fetterman, the current lieutenant governor of Pennsylvania, took aim on Tuesday at Oz's opposition to abortion and previous comments suggesting support of some incestuous relationships. On the same day, a Pittsburgh Post-Gazette editorial argued that Fetterman so far refusing to debate Oz "raises serious concerns" about his health and fitness for office, given the stroke that he suffered in May.
"If Mr. Fetterman's communication skills have not yet recovered sufficiently to effectively debate his opponent, many voters will have concerns about his ability to represent them effectively in Washington," the editorial reads.
Retiring Republican Senator Pat Toomey, who Fetterman and Oz are both hoping to replace, also suggested that something was "not right" with the Democrat due to him remaining active on social media but working to "avoid" a debate with Oz.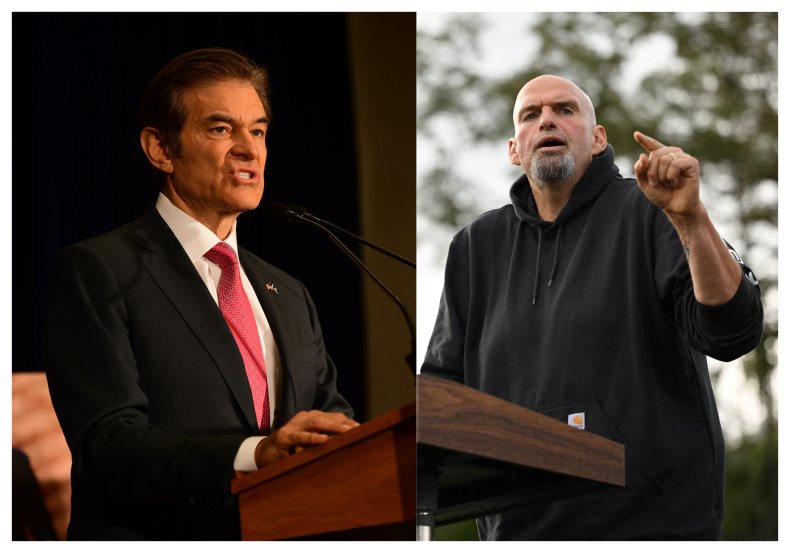 "You have one candidate, Dr. Oz, who very much wants to engage in a robust debate about the differences," Toomey said on Tuesday during a joint press conference with Oz. "Then you have another candidate, John Fetterman, who is doing everything possible to avoid debating those differences."
"John Fetterman sits at home and does social media all day," he added. "He has refused to agree to any formal debates with Dr. Oz. There's something that's just not right here."
Oz also suggested that Fetterman could be attempting to obscure his medical condition by refusing to debate during the press conference, while warning that his refusal could see him get elected despite "never having answered a legitimate question from a voter."
Fetterman has emerged as the clear favorite in the race, with a recent average of polls compiled by analysis site FiveThirtyEight showing him leading Oz by around 8 points.
A spokesperson for the Fetterman campaign told NBC News that Oz's criticism regarding debates was only "about mocking John for having a stroke," adding that the campaign had "said repeatedly that we are open to debating Oz" and was "talking with networks" about the possibility.
"Anyone who's seen John speak knows that while he's still recovering, he's more capable of fighting for PA than Dr. Oz will ever be," the spokesperson said, according to NBC News. "And anyone who's seen Dr. Oz speak knows he's a complete fraud."
Fetterman himself did not address the criticism over his debate stance or his health issues on Tuesday, with the candidate instead tweeting about Oz's stance on abortion and a 2014 comment that he made regarding incest.
"Dr. Oz believes all abortions are murder," Fetterman wrote in one tweet. "I believe it's a decision that should only be between a woman and her doctor. That's all there is to it. Oz can't have it both ways."
A short time later, Fetterman tweeted a Jezebel article about Oz's comments regarding incest during a February 2014 interview on the morning radio show The Breakfast Club.
"If you're more than a first cousin away, it's not a big problem," Oz said during the show according to Jezebel, before apparently agreeing that a "second cousin is fine to smash."
"Yet another issue where Oz and I disagree," Fetterman wrote while sharing the article.
Newsweek reached out to the Oz and Fetterman campaigns for comment.



Source : https://www.newsweek.com/fetterman-under-fire-ducking-debate-pounds-oz-abortion-incest-1740449