Critics of Elon Musk have declared that they will stay on Twitter despite the tech billionaire completing his takeover of the social media platform.
Musk took ownership of Twitter on Thursday night, only hours before a Friday deadline for the purchase. Twitter CEO Parag Agrawal, CFO Ned Segal and General Counsel Vijaya Gadde were reportedly fired after the acquisition was completed. Additional personnel and operational changes to the platform are likely in the coming weeks.
"The bird is freed," Musk tweeted late on Thursday.
Earlier in the day, Musk released a statement to Twitter advertisers that seemingly attempted to allay concerns that his advocacy of "free speech" and desire to relax moderation policies could lead to the platform becoming a haven for right-wing trolls and hate speech. The Tesla CEO said that the platform would not become "a free-for-all hellscape" under his stewardship.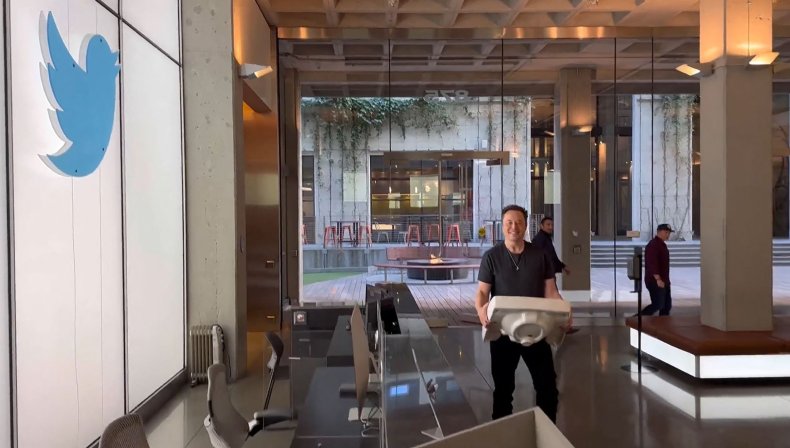 Several notable critics of Musk vowed to leave Twitter after news of the plans to purchase the company were first announced in April. Most either stayed on the platform or briefly deleted their accounts only to return later. Few on Thursday seemed willing to leave despite expressing displeasure about the new owner.
"You are now at whim of a narcissist man child, whose ego is being puffed up by dictators. What could go wrong," tweeted activist and author Amy Siskind, who told followers that she was considering leaving when the deal was first announced.
Others who said they would leave the platform in April but have kept accounts active include activist Shaun King and former professional wrestler Mick Foley, neither of whom had weighed in on Musk's completed purchase at the time of publication.
A small number of new pledges to leave the platform were shared by accounts that remained online at the time of publication.
"Okay, that's it," former reporter Santiago Melli-Huber tweeted. "I'm leaving. I'm deleting this account tomorrow but want to give you all the chance to keep in touch on another platform." Melli-Huber then provided handles for his other social media accounts, ending the tweet by tagging the social media platform and using the hashtag #ElonMusk.
Others said that they lost followers after news emerged of Musk's takeover, speculating that it was either a sign people were leaving the platform or that a purge of fake "bot" accounts was underway.
"My Twitter following is pretty solidly lefty, and I'm noticing (some) folks seem to be serious about leaving Twitter in the wake of Musk's purchase," Democratic strategist Max Burns tweeted. "Down ~200 followers in the past day, with a spike post-Musk news."
"Either Twitter is purging bots or people really are leaving Twitter?" tweeted Robert Maguire, research director at Citizens for Responsibility and Ethics in Washington.
A larger number of Musk critics vowed that they would stay on Twitter despite the change of ownership, with many either citing a lack of suitable alternatives or a desire to remain on the platform unless they are forced off.
"I encourage you not to leave Twitter, but rather to block freely and make good use of tools that enable you to limit replies and your audience," tweeted writer and activist Leah McElrath. "However, it's always a good idea to have a second or third platform, and I'm exploring those options right now myself."
"Some people are leaving Twitter in droves today but it's IMPERATIVE liberals stick together," Democratic fundraiser Jon Cooper tweeted.
"I'm not leaving until the platform becomes essentially unusable or until I'm banned, whichever comes first," tweeted journalist Dave Vetter. "But if he does what he says he wants to do, I don't see how Twitter will continue to function."
"Regarding leaving Twitter: I tried to leave Facebook multiple times since I joined—every time people made noise that they were *really* leaving this time!—but zero other social networks I tried achieved any traction," writer T. Thorn Coyle tweeted. "My solution? I kept my public page there."
"If a new network arises that critical mass migrates to? I'll likely join," Coyle added. "Until then: there are people I connect with here. Even through the fascist creep. If I'm willing to put up with the evil that is FB, I'll put up with Twitter for now."
"Probably not leaving Twitter just like I didn't move to Canada," writer and Augsburg University religion and philosophy professor Chris Stedman tweeted. "I'm used to living in hell…."
"Not going anymore/leaving twitter until I get kicked off," tweeted journalist Erna Mahyuni. "There are no good alternatives. People behind Tribel can't be trusted. (Neither can Twitter but that's another story). But will do as I always do – delete my tweets regularly and now will also revamp my website."
"I'm not leaving Twitter," tweeted Anne V. Clark, a multimedia editor at Vulture. "I refuse to leave these people to their own devices. If Elon Musk wants to get rid of me he's going to have to KILL ME."
"Im not leaving twitter im gonna watch this place turn into a coke den," comedian Rachel Wolfson tweeted.
"Not leaving twitter to spite my haters," tweeted columnist Marisa Kabas.
Some appeared reluctant to leave unless there was a mass exodus from the platform.
"So are we all leaving Twitter or what?" writer Ella Morton tweeted.
"We leaving twitter?" asked influencer Michell C. Clark. "Where y'all going?"
Newsweek reached out to Twitter for comment.