A Twitter war has been waged amid a report that Elon Musk offered to buy a horse for a flight attendant in exchange for an erotic massage on the tech mogul's private jet, with his aerospace company SpaceX later paying $250,000 to settle her sexual misconduct allegation.
Citing interviews and documents, Insider on Thursday reported the serious accusations against the world's wealthiest man, who heads both SpaceX and electric carmaker Tesla. The report comes amid a larger reckoning of sexual harassment and at a time when Musk is finalizing his acquisition of Twitter.
Musk has denied the allegations, telling Insider that there is "a lot more to this story," calling the report a "politically motivated hit piece."
"If I were inclined to engage in sexual harassment, this is unlikely to be the first time in my entire 30-year career that it comes to light," he told Insider.
Newsweek made multiple attempts by email and phone to SpaceX and Tesla for response. Newsweek has also reached out to Twitter for comment.
The allegations center around a 2016 incident, where an unnamed flight attendant says Musk exposed himself to her and rubbed her leg, all without her consent during a flight to London, according to Insider.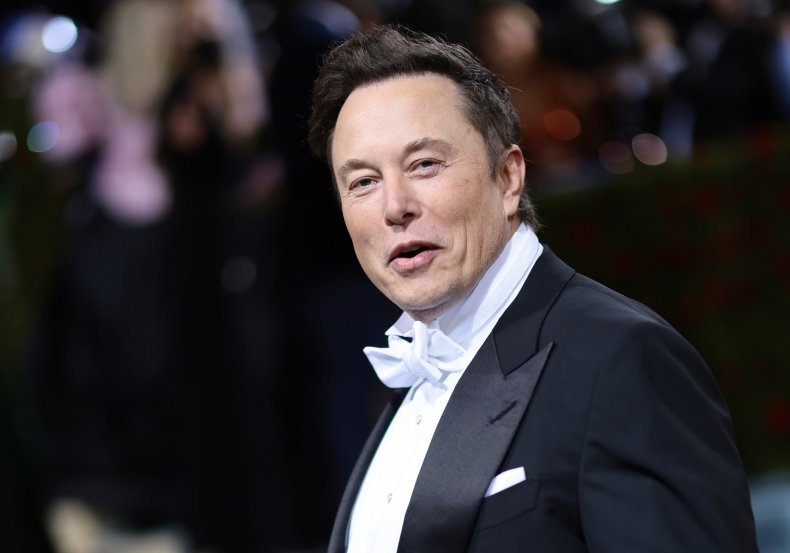 Insider cited email correspondence, declarations and other documents shared by a friend of the attendant, who are both unnamed in the report.
According to one document, the flight attendant was encouraged to become a licensed massage therapist so she could give Musk massages during flights. The attendant declined to comment for the story, but her friend described the incident to Insider.
"He whipped out his penis, it was erect," the friend told Insider. "And he started propositioning her, like he touched her thigh and told her he would buy her a horse. And he basically tried to bribe her to perform some sort of sexual favor."
Musk said he would buy the attendant, who rides horses, her own horse if she would "do more," according to the friend.
After the attendant refused Musk's alleged advance, her friend described her to Insider as noticeably distraught. According to the friend, the attendant said her shifts were cut back in possible retaliation.
The attendant in 2018 hired a California employment lawyer and complained about the incident to SpaceX's human resources department, according to Insider. The attorney hired by the attendant asked her to produce the declaration to back her claims, Insider reports.
The matter was settled out of court, with SpaceX giving the attendant a $250,000 payment for not suing over the claims and agreeing not to discuss the allegations or the severance money, Insider reports.
"I absolutely felt a responsibility to come forward with it, especially now," the attendant's friend told Insider. "He is the richest man in the world. Someone with that level of power causing that kind of harm and then throwing some money at the situation, that's not accountability."
The famously irreverent CEO in November 2021 tweeted a picture of a whistle with the text "Blow the whistle on Tesla!" At the time, six women at Tesla had filed a lawsuit alleging "rampant sexual harassment" at its factories. A SpaceX engineer also said the company turned a blind eye to sexual harassment of women.
Twitter users pointed to Musk cryptically tweeting on Wednesday that "Political attacks on me will escalate dramatically in coming months."
Other critics of Musk pointed to another tweet where Musk said he would no longer vote Democratic.
"Now, watch their dirty tricks campaign against me unfold," he said.
"Sounds like you know a lot of bad stuff is about to come out? and so you're trying to discredit it ahead of time?" Twitter user thegoodgodabove responded. "This isn't our first rodeo ya know."
Journalist Ashton Pittman tweeted that the Insider also made clear Musk's "vague tweet" was an effort to discredit the story.
Ahmed Baba, co-founder and president of Rantt Media, tweeted that Insider reached out to Musk about the story "just before his unhinged tweets trying to paint a left-wing conspiracy."
"Peep the time stamps," he wrote. "This is so transparent."
Twitter user pixelatedboat aka "mr tweets" alluded to scandals surrounding Republican elected officials, writing, "Just as Elon Musk predicted, now that he's a Republican his political enemies are smearing him by making him pay $250,000 four years ago to settle a sexual misconduct claim."
"They are doing this now?" Fox News contributor Lisa Boothe tweeted. "Next will be claims of racism."
Twitter user Justin Schuh reacted dismissively to the news.
"We look forward to your honesty!" Twitter user Davetherave wrote. "We live in a crazy world! My gran is 74 next year and she didn't fight two world wars for this!"
Twitter user thebradfordfile wrote, "I see Democrats have started their lies to destroy Elon Musk for the crime of wanting free speech."

Source : https://www.newsweek.com/elon-musk-sexual-harassment-report-stirs-furious-debate-twitter-1708417