Former President Donald Trump may have too much baggage to run for the White House again in 2024, according to comments from some of those attending the Conservative Political Action Conference (CPAC) in Texas this week.
The former president is slated to close out the event in Dallas on Saturday but NPR's Ashley Lopez spoke to some attendees who suggested Trump might be "too disruptive" to be the Republican candidate in two years' time.
He has repeatedly hinted that he will mount a third presidential bid and recent polling shows Trump remains the preferred choice among potential GOP primary voters.
George Breen of Pennsylvania told Lopez that Trump was "difficult." Breen was attending CPAC and selling board games based on the theme "Stop the Steal" – referring to unfounded claims that the 2020 presidential election was stolen from Trump.
"I think he tapped into something in the American psyche that hadn't been tapped into by either party, but he's a problematic character," Breen said.
"He's a difficult person… there's too much petty stuff. He's too disruptive," he added.
Nebraska resident Cassiopeia Fletcher expressed similar concerns and suggested she could support Florida Governor Ron DeSantis if he chose to seek the GOP presidential nomination.
"There are some days where I think that would be great and other days where I think it is time to move on," Fletcher told Lopez, before going on to discuss DeSantis.
"He has all of the bulldog of Donald Trump," she said. "Without the offensiveness."
Nonetheless, CPAC attendee Catherine White of Texas told NPR: "Most of the baggage, he has already fought through it.
"He has taken a beating and he still comes out on top."
Trump has not formally announced another White House run but he is widely expected to do so and he has repeatedly suggested that he will make his decision known soon, but also emphasized the importance of the upcoming midterm elections.
"This is the year we're going to take back the House, we're going to take back the Senate and we're going to take back America," Trump told a rally in Waukesha, Wisconsin on Friday.
"And in 2024, most importantly, we are going to take back our magnificent White House, we're going to take it back," he said.
Recent polling indicates that Trump continues to lead the field of potential Republican primary candidates. A Yahoo News/YouGov poll conducted from July 28 to August 1 among 428 registered voters found the former president with 44 percent support, leading DeSantis, who had 35 percent support.
Newsweek has contacted former President Trump's office for comment.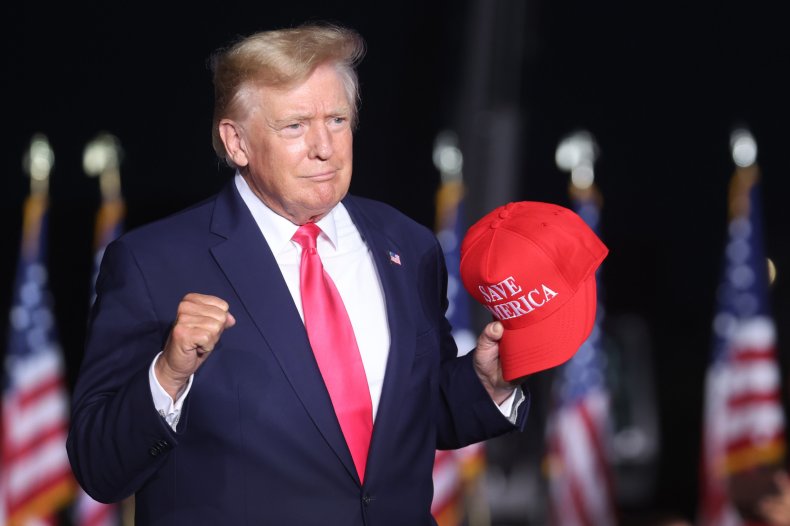 Source : https://www.newsweek.com/donald-trump-too-disruptive-presidential-run-cpac-attendees-say-2024-republicans-1731514