A social-media video of a deaf-and-blind dog barking silently has tugged at heartstrings across the internet.
The TikTok clip posted by Special Needs Animal Rescue League (SNARL Rescue) has received 3.8 million views. It captures the moment when the disabled dog Link barks silently at the camera by moving his mouth to communicate while remaining inaudible.
A caption across the post explains that Link is deaf and blind, and that he only barks silently because of this. The pup also appears to suffer from joint and bone injuries, as he can be seen wearing a brace with wheels to support his back. Link has been identified as a Boston terrier by the video's creator in other TikTok posts on SNARL's account.
SNARL Rescue is a non-profit, volunteer-run shelter that rescues and advocates for animals that have disabilities or are in situations deemed high-risk.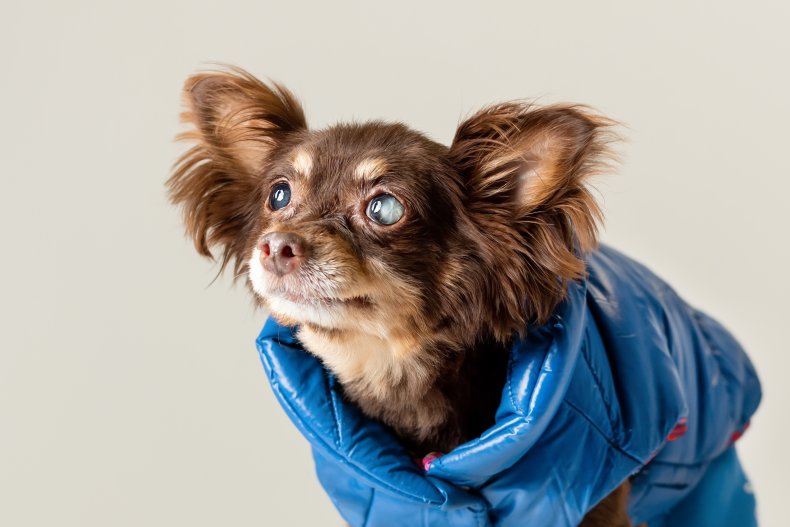 How Is Deafness Spotted in Dogs?
Patrik Holmboe is a head veterinarian at Cooper Pet Care, a veterinary telemedicine provider in The Netherlands. Holmboe told Newsweek how deafness affects dogs and how a hearing impairment can be identified and diagnosed in animals.
"How the deafness is spotted really comes down to the degree of deafness, full versus partial, and the alertness of the observer. The obvious signs would be poor response to auditory cues," Holmboe said.
"This can be very difficult to assess, especially if an animal is only partially deaf, as it might come across as them just being stubborn," he added. "The primary test of deafness is called the Brainstem Auditory Evoked Response. Noises are played to each ear, and the response of the brain is monitored via sensors attached to the skin of the head."
The veterinary expert added that deafness is much more of an issue in dogs than cats, because deaf puppies are much more difficult to train. Deafness typically makes dogs much less able to respond to dangerous aspects of the outdoors such as cars or aggressive dogs. Owners with deaf dogs should consider keeping them on a leash while on walks to mitigate any risks.
What Do the Comments Say?
Since it was posted to the social-media platform on April 12 by @SNARLRescue, the TikTok post has been liked by over 650,000 users. More than 7,000 have commented under the post, either to share their amusement at the video or to vocalize their admiration for the shelter's work.
"Well, you better listen to those eyes," one user wrote under the post.
"I have trouble hearing so I appreciate him," another added, while a third commented: "Treasure him very sweet and beautiful."
Newsweek reached out to X via Instagram and TikTok.
Do you have funny and adorable videos or pictures of your pet you want to share? Send them to [email protected] with some details about your best friend, and they could appear in our Pet of the Week lineup.