Jacky Eubanks, a Trump-endorsed candidate for Michigan's legislature, said she would vote to make contraception illegal.
Concerns have mounted about the future of reproductive rights across the United States after a leaked Supreme Court majority opinion showed the court appeared poised to overturn Roe v. Wade, the decision that guarantees abortion rights.
Many Republican-led states would quickly ban the practice, and some reproductive rights advocates have warned that even more restrictive laws could be implemented.
Eubanks, who is running for Michigan's 63rd House district, backed a ban on contraception during an interview with right-wing news outlet Church Militant.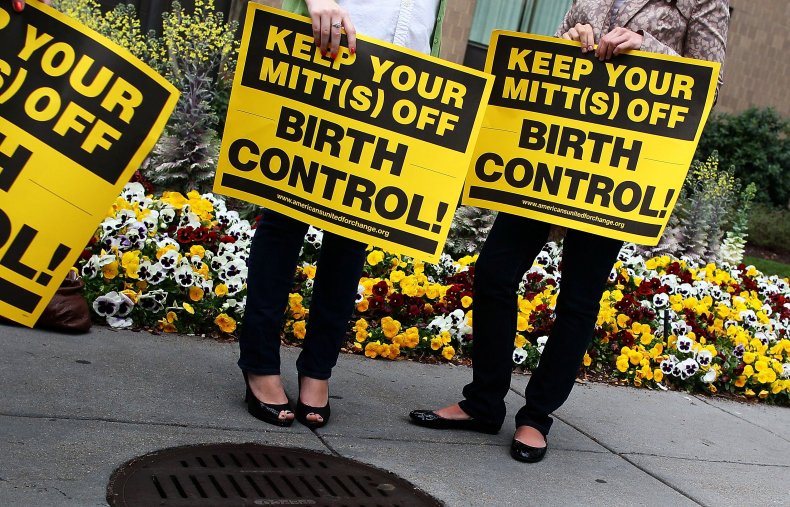 In the interview, host Michael Voris pressed her on whether she would vote to make contraception illegal in Michigan. She argued that several issues—including a declining population and a lack of enough people to take care of society's population—would be avoided if birth control were illegal.
"All of this could be avoided if we were actually a truly pro-life nation, which means conceiving a child is a beautiful and sacred thing. And that is why sex ought to be between one man and one woman in the confines of marriage, and open to life," she said.
She continued that if a vote on birth control were to be brought up in the state House, she "would have to side with it should not be legal."
Eubanks continued to blast contraception as leading people to believe in "the false sense of security that they can have consequence-free sex." She said a ban on contraception would also convince people to wait until marriage to have sexual relations.
During the 26-minute interview, Eubanks also called for a return to "God's moral order."
"You cannot have a successful society outside of the Christian moral order," she said. "And things like abortion and things like gay marriage are outside of the Christian moral order, and they lead to chaos and destruction and a culture of death."
Eubanks has been endorsed by former President Donald Trump, who praised her for going "door-to-door in Macomb County and Detroit asking voters if they really voted" to prove his claims he only lost the 2020 presidential election due to widespread voter fraud—a claim which has not been backed up by substantial evidence.
"Jacky Eubanks has been out there, working hard, on her own. I wholeheartedly Endorse Jacky Eubanks for Michigan State Representative. She is an America First Patriot, and I have no doubt that she will have a great future in the Republican Party!" his endorsement reads.
Newsweek reached out to the Eubanks campaign for comment.

Source : https://www.newsweek.com/contraception-should-not-legal-says-trump-backed-candidate-eubanks-1708868