Australia's high-stakes election Saturday saw voters ending nine years of conservative rule in favor of an opposition Labor Party that promised to take stronger action on climate change.
Labor Party leader Anthony Albanese is poised to take over the nation's government after early election results showed him defeating Prime Minister Scott Morrison's conservative coalition. Albanese has received at least 72 of the 76 votes needed to form a government, and can fill out the rest with help from independent and minor-party victors, according to the Australian Electoral Commission.
The Labor Party victory, which ran on a platform of "renewal not revolution," indicates a significant rebuke from Australian's who are seeking to focus more on climate issues, among other things. The party vowed to nearly double Australia's 2030 target for cuts to carbon emissions, and promised to protect the nation's Great Barrier Reef, endangered species, and bushfire recovery.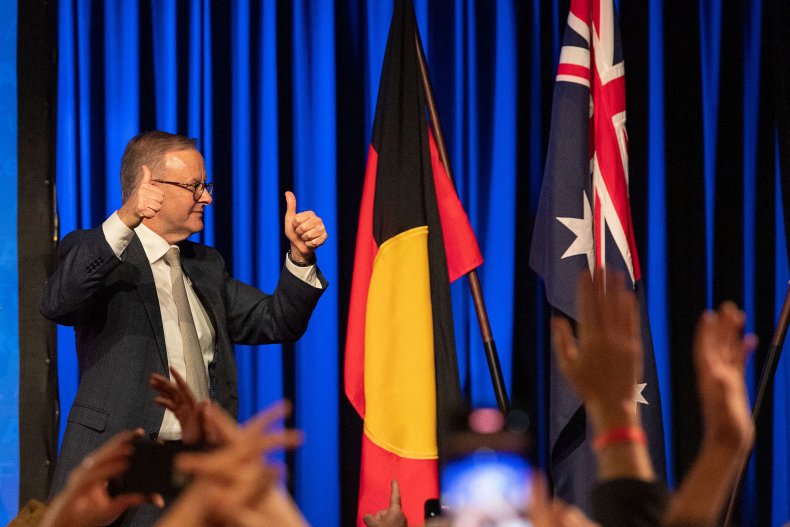 Amanda McKenzie, CEO of the research group the Climate Council, said Saturday that climate action was ultimately a major determinate of the vote.
"Millions of Australians have put climate first. Now, it's time for a radical reset on how this great nation of ours acts upon the climate challenge," she said in a statement, according to CNN.
One such voter, 20-year-old Ethan Smith, echoed that sentiment by explaining why he supported the Labor Party's climate policies.
"Everyone is more concerned about jobs, but I think we've got to look at the bigger issue. I think it's a global issue; it's impacting everyone. We need to make steps towards a net-zero target and do it in a way that incorporates the people who work in the mines who need to be retrained into new sectors, and Labor's got a policy for it," he told The New York Times.
Morrison, whose popularity had dropped in polls taken ahead of the election, conceded defeat by stating that he has "always believed in Australians and their judgment," and is "prepared to accept their verdict." Albanese, in turn, tweeted a video of his supporters cheering for victory.
Albanese is the fourth Labor leader to win control of the government since World War II, who campaigned on a pledge to rebuild foreign relationships, increase the national minimum wage, and to supply more funding for child care centers, nursing homes and disability services.
His climate change policies include a promise to cut emissions by 43 percent by 2030 and to reach net zero by 2050. In seeking to transition to renewable energy, the Labor Party plans to upgrade the nation's energy grid and roll out solar banks and community batteries. However, Albanese has said that he would approve new coal mine projects if they "stack up environmentally and commercially," according to The Sydney Morning Herald.
The party's goals are also not quite on track to keep the global temperature rise within 1.5 degrees Celsius, as is outlined in the international Paris Agreement. Nonetheless, Albanese's center-left policies reflect a stronger approach for change than was presented under Morrison's leadership, which ultimately gave little recognition to climate issues.
Albanese's victory also comes just two months after Morrison came under fire when an extensive report found that his government was not doing enough to protect the Great Barrier Reef from significant coral bleaching.
"Tonight, the Australian people have voted for change," Albanese said in his victory speech. "I will work every day to bring Australians together. And I will lead a government worthy of the people of Australia," he added.

Source : https://www.newsweek.com/australias-election-climate-fears-help-end-conservatives-nine-year-run-1708850