From curbing boredom to keeping screaming at bay, traveling with children isn't always easy—for both the family and other passengers.
An exclusive survey conducted on behalf of Newsweek by Redfield and Wilton Strategies asked 1,500 American adults if there should be child-free areas on public transit. Most said yes.
Fifty-nine percent of those surveyed agreed that a child-free zone on planes and trains would be a positive thing, while 27 percent disagreed and 14 percent were unsure.
Arguments about disruptive child passengers are common—from passengers telling parents to control their children to footage of children screaming through long-haul flights.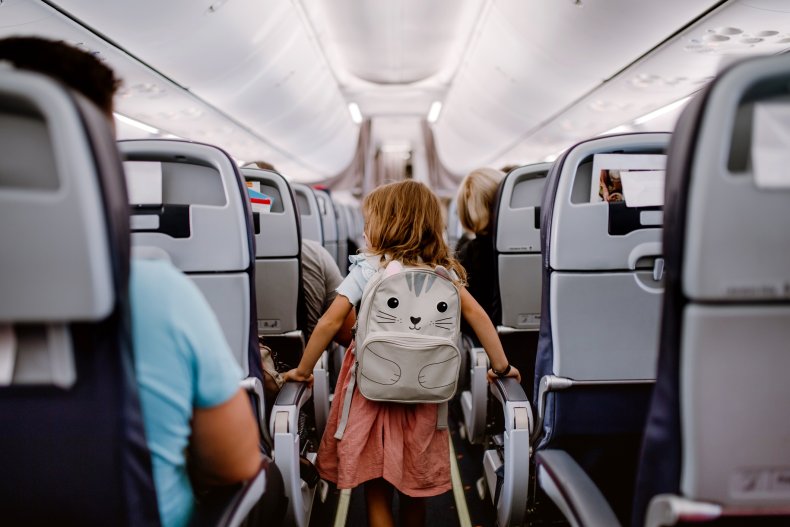 Regardless of generation, the poll revealed that respondents felt there would be fewer issues on public transport if there were designated child-free zones.
Younger people were particularly supportive of the idea. In the age group 18-24, 61 percent said they'd like to see child-free zones on a flight, while 69 percent of 25-34-year-olds agreed.
While in slightly smaller numbers, older respondents agreed too. Of those aged 45-54, 49 percent said they'd like to see child-free areas, while for those over 55 years old, more than 50 percent would like a child-free travel zone.
Mom Claire Robinson agrees that having designated child-only areas would make life much easier. She told Newsweek: "As a mom traveling solo with a small child it would be less stressful. A dedicated kids and parent area on a flight would be a real blessing—and a great USP (unique selling point) for an airline I think."
Poll question: Should there be child free areas on trains and airplanes?
Yes: 59%
No: 27%
Don't know: 14%
| | | | | | | |
| --- | --- | --- | --- | --- | --- | --- |
| AGE | 18-24 | 25-34 | 33-44 | 45-54 | 55-64 | 65+ |
| Yes | 61% | 69% | 68% | 49% | 53% | 54% |
| No | 27% | 26% | 24% | 31% | 27% | 29% |
| Don't Know | 12% | 5% | 8% | 20% | 20% | 17% |
Fieldwork date: 04/24/2023
Population sampled: Eligible voters in the U.S.
Sample size: 1,500
As well as specific seating arrangements, Maria Jones said she would like to see more spaces for her to tire her kids out before or during a flight: "Dedicated areas would make it much easier to tire out an energetic child before a flight," she told Newsweek. "A toddler sleeping on a flight is a good thing for everyone."
Debates over babies and young children on flights often rage online. Last year a woman was slammed for asking parents to "please stop bringing crying babies on flights," and despite our poll results previous calls for adult-only flights haven't always been well received.
When TikTok user @mooorganic said that she would like to see adult-only flights, commenters were not as enthusiastic about the idea. One reply said: "This was harder for the mom than it was for you," while another wrote: "Oh no I had to share public space with the public."
"I firmly feel parents are entitled to go on vacation and go on planes with their children as much as the next person," mom Zoe Louise told Newsweek. "But as a parent, I feel that it would be a less stressful experience if you knew there would be a dedicated area where you wouldn't receive judgment and annoyance from other travelers."
Louise revealed that she has even avoided traveling with her children so far for this reason. Despite believing that parents and children have every right to travel, the anxiety and potential judgment has prevented her from booking a family vacation.
It isn't just parents that like the idea, though. Child-free travelers are also all for a child-only travel space.
"I'd love to see child-free and children-only areas on long haul planes," traveler Nikki Kopelman told Newsweek.
Carole Railton agreed: "I have worked in 47 countries and done a lot of traveling on planes," she told Newsweek. "I have no children, [but] it seems like a good idea for children and parents to be together, for the sake of them and other passengers. There is nothing worse than sitting next to a parent of a sick or unruly child—especially on long haul flights."