Alec Baldwin's wife, Hilaria Baldwin, has come under fire again for what many have deemed as using a "fake accent."
The yoga instructor allegedly fakes a Spanish accent, even though the Boston native was born and raised in Massachusetts.
Hilaria Baldwin previously said she was born on Majorca in Spain and was raised there, which she has said explained her European accent.
But she's not the only famous face to be called out for allegedly not using their authentic way of speaking. Everyone from Lindsay Lohan to Madonna have come under fire for their "fake accents."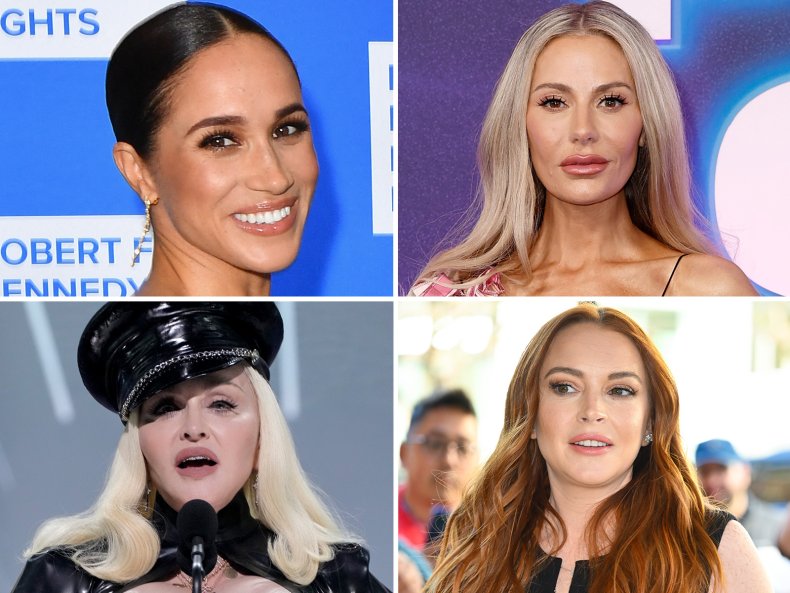 Another celebrity who has been accused of faking her accent is Meghan Markle, who was born and raised in Los Angeles but lived in the U.K. while engaged to Prince Harry and in the early days of their marriage.
In 2018, a video of her speaking to a fan went viral when people thought they'd heard a British inflection in her voice.
"We all had a great day, I think…The sun was shining for us," she said to the fan who congratulated her on her wedding to Harry earlier that year.
In 2022 Markle came under fire for greeting English actress Jameela Jamil with a "mockney"—fake cockney—accent on her Archetypes podcast.
She said "ello" to The Good Place star, with people on social media accusing her of trying to copy the stereotypical London accent.
Another person seemingly not immune to the influence of British English is Madonna, who joked her "fake British accent" was a result of her being married to English film director Guy Ritchie.
The pair tied the knot in 2000 and lived in London during their eight-year marriage.
"I didn't know what anyone was talking about until I heard old interviews of myself and then I was horrified and flabbergasted. Why did you let me do that to myself? It's all Guy Ritchie's fault. He made me do it," she joked during a live show in London in 2020.
Actress Lindsay Lohan raised eyebrows when her once standard American accent seemed to have changed in 2016. In fact, fans noticed the Mean Girls star's accent has constantly changed over the years.
Lohan explained being around different accents seemed to affect her and it could get stronger depending on where in the world she was. The star has lived in Dubai and Greece as well as spending a lot of time in Russia with ex-fiancé, Egor Tarabasov.
She even credited her business partner, Panos Spentzos, with influencing the way she speaks.
"I think when I'm around certain dialects it changes each time—Panos even—and you just pick things up along the way," Lohan told Entertainment Tonight in 2019.
As for The Real Housewives of Beverly Hills star, Dorit Kemsley, her mixed accent was called out in an iconic scene of the Bravo reality series by Erika Jayne.
The blonde housewife confronted Kemsley on her accent saying, "You're an American. You were born in Connecticut."
Kemsley tried to break down her accent in a video on the Bravo website, saying it was probably a result of the fact her husband is British, she's multilingual and spent much of her time growing up traveling the world.
"I think the way I speak is probably a combination of many things. First and foremost, I am married to a Brit who's got a very, very strong London accent, and I'm sure some of his inflections have sort of rolled over on me," she explained. "My parents are not American. I was born and raised in America. I did spend a significant amount of time, nearly 10 years, back and forth going to Europe."
Kemsley added: "I spent a lot of time working all over the world and in various places of the world where people didn't speak English all that well. I had a tendency to over enunciate, so I think at times some of my English is part that and part inflection.
"And you know being around a lot of Europeans and a lot of Brits, you just become a product of your environment really. That's who I am. That's the way I speak. I don't hear it. My husband doesn't hear it but it's definitely become a topic of conversation."
Tom Hanks' son, Chet Hanks, was accused of "verbal blackface" when a video of him speaking with a Jamaican patois accent went viral in 2020.
He defended his use of the accent in December 2020 on Clubhouse, an invite-only voice-based social media app where users can enter into different rooms to listen to or participate in a conversation.
"I have no ill intentions and I'm just being myself. It's really as simple as this," he said at the time.
"If I get on a binge or if I'm watching a bunch of English gangster movies and I'm just going about my day to day business like ordering a coffee in Starbucks and be like (mimicks Cockney accent) 'Gimme a latte!'
"It's not coming from a place of 'oh I'm going to s*** on these English people,' you know what I mean?"
Hanks managed to poke fun at himself, making a cameo appearance in Donald Glover's acclaimed series, Atlanta. In the episode, Hanks played a man raised by a Trinidadian nanny, and appears at her funeral as an adult still speaking with the accent he picked up from his childhood carer.
The American Speech-Language-Hearing Association explains it's not so unusual for people to have their accents influenced and described the process as "accent modification."
Modifying one's accent is not simply the result of geography or social influences, but also an attempt to fit in.
"They're sending out a signal of some kind," Jack Chambers, a professor of linguistics at the University of Toronto, told The Wall Street Journal in 2003. "It may be insecurity—they want to fit in."