U.S. Secretary of State Antony Blinken denounced the Israeli police for clashing with Palestinian mourners at the funeral of Palestinian American journalist Shireen Abu Akleh.
In video footage, Israeli police were seen using batons to hit mourners attempting to carry Abu Akleh's casket during a procession. Israeli authorities targeted mourners because they did not want them to walk with Abu Akleh's coffin, alleged Arabic media outlet Al Jazeera.
"We were deeply troubled by the images of Israeli police intruding into the funeral procession of Palestinian American Shireen Abu Akleh," Blinken said. "Every family deserves to lay their loved ones to rest in a dignified and unimpeded manner."
White House press secretary Jen Psaki called videos from the funeral procession very troubling.
"We have all seen those images," Psaki said. "They're obviously deeply disturbing. This is a day where we should all be marking, including everyone there, the memory of a remarkable journalist who lost her life."
Abu Akleh was fatally shot Wednesday while reporting on a raid of the city of Jenin, in the West Bank. Al Jazeera alleges the shooting was by the Israeli Defense Forces (IDF).
"In a blatant murder, violating international laws and norms, the Israeli occupation forces assassinated in cold blood Al Jazeera's correspondent in Palestine," Al Jazeera alleged in a statement.
The Israeli military released an initial report saying Abu Akleh's death occurred in one of two scenarios—indiscriminate Palestinian gunfire or possible errant IDF sniper fire, The Times of Israel reported.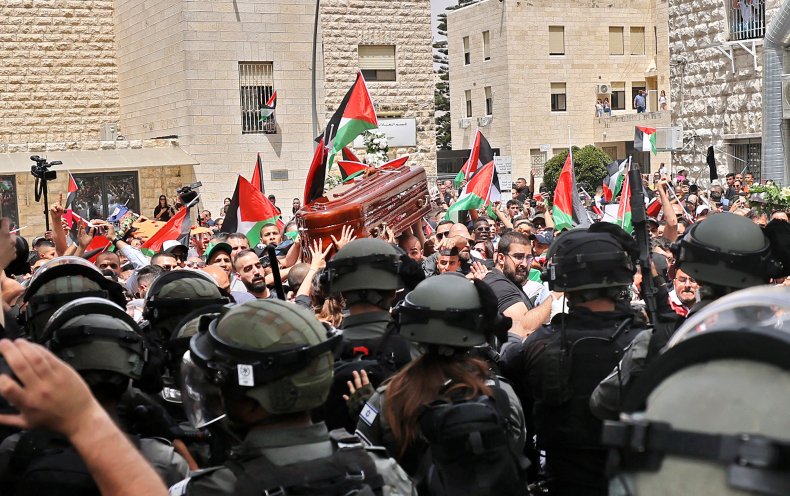 Abu Akleh and other journalists in the West Bank were wearing protective gear "clearly identifying" them as media members, according to the United Nations.
On Wednesday, the White House called for an "immediate and thorough investigation and full accountability" for her death.
"Investigating attacks on independent media and prosecuting those responsible are of paramount importance," Psaki said.
Many other world leaders have condemned the Israelis' disruption of Abu Akleh's funeral. The UN also released a statement condemning the killing of Al Jazeera's prominent journalist.
"Authorities have an obligation not to harm journalists and to protect them from harm under international humanitarian law and international human rights law," said the UN. "The killing of Abu Akleh, who was clearly performing her duties as a journalist, may constitute a war crime."
Abu Akleh's death highlights the continued tension between Israel and Palestine.
The Israeli–Palestinian conflict, rooted in political, territorial and religious disagreements, has been raging for more than 70 years. In 1947, the UN adopted the Partition Plan, which sought to divide the British Mandate of Palestine into Arab and Jewish states, according to the Global Conflict Tracker. The following year, the State of Israel was created, sparking the first Arab-Israeli War. The bloodshed has continued over territorial control of several religious sites.
Newsweek reached out to the Israeli government for comment.

Source : https://www.newsweek.com/blinken-condemns-israeli-violence-funeral-palestinian-journalist-1706635