As Bud Light and Anheuser-Busch have been boycotted and scrutinized by segments of the American public, some establishments—like The Fairfax Bar & Grill in Bloomington, Indiana—are making customers leave for voicing "intolerant" opinions on the subject.
The continued discussion surrounding the beer and its parent company, Anheuser-Busch, in the wake of its partnership with transgender activist Dylan Mulvaney, continues to divide certain individuals and demographics. It also caused two company marketing executives to take leaves of absence.
New sales figures released by NielsenIQ and Bump Williams Consulting, originally cited by trade newsletter Beer Marketer's Insights, indicate an average sales revenue drop of 17 percent—including a decline of 21 percent in the week ending April 15, which exceeded the week prior by 10 percent.
"We are tired of all of the hate," The Fairfax Bar & Grill wrote in an April 11 Facebook post. "We are very open to debate and discussion and it's truly a shame that we can't have open conversations about this important political and cultural topic.
"Bars, in our opinion, exist as public spaces where ideas should be exchanged. Unfortunately, due to all of the bigotry and hatred that has surfaced around the Bud Light controversy, any patron wanting to voice their concerns about the issue will be immediately asked to pay their bill and leave our establishment."
Everyone is welcome in the bar no matter how they identity, the post added, and that ownership doesn't care about special cans or partnerships with certain individuals.
"We will not tolerate intolerance," it said.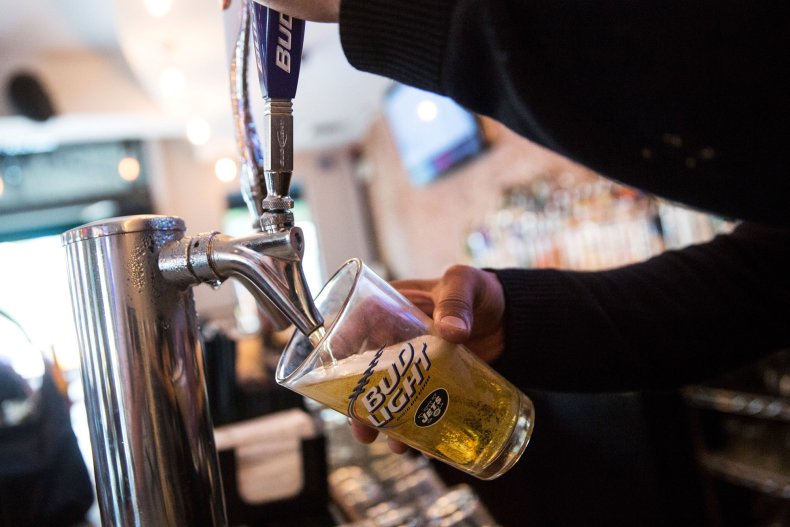 Bar owner McKinley Minniefield told Indiana Public Media that the bar's stance extends beyond politics and aims to show support for other human beings. The new policy also allows Minniefield's staff to contend with any unruly customers.
"[Certain people] were being mean to other people at the bar and my bartenders needed ammunition, right?" said Minnifield, who has owned the bar in Monroe County for about two years. "They needed support to be able to just say enough is enough."
Minnifield told local WISH-TV that when Mulvaney's association with Bud Light originally went viral, some people immediately shared their displeasure on social media with "very vulgar speech."
It also led to "a lot of hate speech, and people being uncomfortable," he said, adding that bartenders were negatively affected while some patrons would leave the bar entirely.
"We're a local dive bar in southern Indiana, there's a lot of ideas that [are] tossed around here, but I've never dealt with anything recently that was so overtly hateful," he said, adding that he hasn't seen a drop-off in business since the partnership was announced.
Newsweek reached out to Milliefield via phone for comment.
Some establishments, such as those owned by Joe Penovich, are doing the opposite.
Penovich, who owns Florida-based Grills Seafood Deck and Tiki Bar locations in Port Canaveral, Melbourne and Orlando, wrote in a Facebook post last week that his business decided to remove Bud Light "because of their support of something that is in direct opposition to our Biblical faith."
In an interview with Fox Business, Penovich reiterated the "Biblical faith" standpoint and said he's experienced "probably the most difficult two weeks we've ever experienced in our life."
Anheuser-Busch "held a social knife over all of our heads here and they dropped it real irresponsibly," he added.
Following days of silence on the topic, Florida Governor Ron DeSantis—a potential GOP presidential candidate—called Bud Light boycotts "righteous" and claimed he would never drink it again.
Thomas Gift, founding director of University College London's Centre on U.S. Politics, previously told Newsweek that silence on Bud Light's behalf is likely the best marketing strategy.
"The brand's best hope now is to lie low and hope the controversy blows over," Gift said. "And it will. After all, two qualities define Americans: one, they have a short attention span; and two, they love cheap beer."